Pixelmator will soon get an iPhone version, iPad app now priced at $4.99 for a limited time
5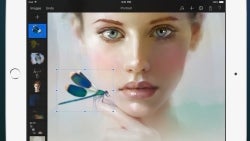 Pixelmator, one of the most popular photo editing apps for the iPad, will soon get an iPhone version as well. The developer made the announcement today through an official blog post, and promised that all of the features available on the iPad version of Pixelmator will reach the iPhone version untouched.
At the moment, the developer has yet to announce an exact release date for Pixelmator on iPhone, but an official announcement usually hints that a release date can't be too far off. In the meantime, Pixelmator decided to shave 50% off the app's price, now available for $4.99. The best news is that Pixelmator will be an Universal iOS app, meaning that if you've already purchased Pixelmator for your iPad, the iPhone version will come free of charge. Furthermore, any improvements made to the iPad version will be instantly brought to the iPhone app as well.
The official blog posts also mentions that Pixelmator will soon get a new interesting feature. "Distort Tools" will allow users to meaningfully distort various elements in a photo, opening the door to a range of possibilities. Distort Tools are based on Apple's Metal graphics API, one that was developed for GPU-assisted 3D games. Follow the source link below to check out a video that showcases what is possible using the new Distort Tools.