PhoneArena Facebook notifications incoming!
12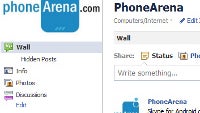 Until now, PhoneArena's Facebook page was a pretty decent place to be if you wanted to be in the know of all the latest news around cell phones, but you know what? We actually thought that we can make it even better! How do we intend to do that? Well, here's how...
Driven by the desire to keep you informed at all times, we decided that we should notify you whenever
a new review is coming
to our site. For example, if we've just received a hot new phone to play with, we'll immediately and exclusively notify you about that (like we did
here
!) through our Facebook page, so that you know its review is on its way to PhoneArena.
So here's yet another reason to like
PhoneArena's Facebook page
!
We're dying to know your opinion on this one, folks. Would that kind of notification be useful to you? Go on and give us the feedback in the comments!
Recommended Stories