Pantech Element hands-on
0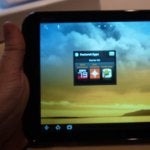 Pantech just pulled the covers off of a device that they call the Element which is an Android-powered tablet that will run on AT&T's
4G LTE
network when it launches on January 22 for the price of $299 with a two-year agreement.
The Pantech Element runs on Android Honeycomb and is actually a pretty decent piece of hardware. Despite being made of mostly plastic, it didn't feel like a tablet that would be easy on the wallet. The finish was smooth and it felt nice when held with two hands. However it is a bit on the heavy side, despite featuring only an
8-inch display
.
Speaking of the display, it left much to be desired like the Pantech Burst smartphone that they also announced earlier today.
Colors and text were okay
, but nothing to write home about. Viewing angles were decent enough but might not get the job done in the event that there are multiple people trying to watch a video on the Element at the same time.
Powering the tablet is a
dual-core 1.5GHz Snapdragon Processor
. It seemed speedy enough and could probably handle everyday use without a hiccup. Apps and menus opened without much hesitation and navigating between screens was fluid. The Element features two cameras. The back of the device has a
5 megapixel camera
with flash while the front has a 2 megapixel shooter.
What is really impressive about the Pantech Element is the fact that it is
waterproof by definition
. Yes we said waterproof, not water resistant. It can withstand being one meter underwater for a half an hour. Not too bad at all.
The Pantech Element is launching on
January 22 for $299 with a two-year contract
with AT&T. Given that it launches on the same day as the Pantech Burst, AT&T will actually be offering a special promotion in which anybody can pick up both the Element and the Burst for a combined price of $249. Of course, that is with a two-year contract for each. Tell us what you think about the Pantech Element in the comments below.