Pantech Apache is another LTE smartphone bound for Verizon; FCC gives the thumbs up
2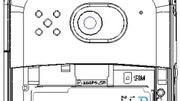 Although it is somewhat of a tedious task, browsing through the FCC's database can be worth the effort as it is often how we meet with upcoming phones for the first time. Sure, not every handset spotted there is as exciting as the Motorola DROID BIONIC or the Samsung Galaxy S II, for example, yet we think that the exhibit that we have for you today deserves some attention.
The Pantech Apache has been given the green light by the FCC
, and what makes the device interesting is that
it packs an LTE radio on board
. Verizon is the carrier, which the smartphone bears compatibility with, and judging by the device's Wi-Fi certification, Android is its operating system of choice.
Unfortunately, there isn't much that we can say about the device in terms of hardware specs. There appears to be a camera on board and that little dot in the upper corner on the back of the smartphone might turn out to be a secondary microphone for noise cancellation. Only time will tell when exactly the Pantech Apache will see the light of day and whether it will ever land on Verizon's shelves at all.
source:
FCC
via
PhoneDog