Pandora launches its redesigned new mobile app for iOS and Android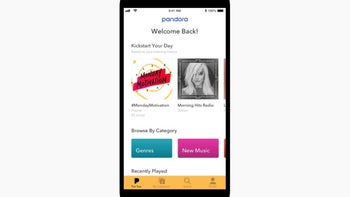 Pandora has just
released
a brand new mobile app that promises to enhance your music listening experience. The new app is now available for download in the United States on Android and iOS devices.
The new app adds a range of features meant to enhance personal discovery and offer listeners full exposure to Pandora's library of on-demand music and podcasts. Also, the new mobile experience offers personalized content via Pandora's curation team and its proprietary Music and Podcast Genome technology.
The new
For You
feature is a personalized, dynamically-updating discovery feed that selects fresh, custom-curated music and podcast recommendations for each user throughout the day. Furthermore, the
Pandora Modes Station
customization feature for mobile offers a simplified new navigation interface for ease of use.
All the new features and improvements are available to all Pandora users no matter which tier of service they use: free ad-supported, Pandora Plus, or Pandora Premium. Just make sure that you update to the latest version of Pandora if you want to try out the new features.