Panasonic Eluga Power Hands-on Review
7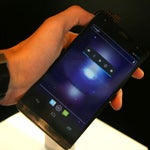 This year marks the return of Panasonic on European soil, as far as mobile phones are concerned. One of the first devices to hit Europe is the
Panasonic Eluga Power
– a pretty big handset featuring a 5" display with HD resolution.
As a whole, the Eluga Power has a very rectangular form, reminding us of LG's new handsets like the L line and the 4X HD. However, the phone is also pretty thin, so it doesn't feel like a brick in your hand. As we said, the Panasonic Eluga Power sports a gigantic
5" display
with HD resolution, and indeed, the
pixel
density is very good – so everything looks pretty clean on this screen.
The handset is powered by a 1.5GHz dual-core Snapdragon S4
processor
, so it should be snappy enough when it comes out. We say it "should", because the unit that we tested here at MWC was nowhere near being finished.
An interesting aspect about the Eluga Power is that it's
waterproof
, so it should withstand submerging in water, although we wouldn't advise you to do that. Finally, we are totally taken by surprise by the approach that Panasonic has taken with the positioning of the physical power/lock and volume keys, which are found on the back of the phone. We can't really say how convenient or inconvenient this would be, though, so we'll rather wait for a retail unit to arrive at our office, before drawing conclusion.
As we said,
software-wise
the phone was pretty much stock Android 4 ICS, but it was clearly unfinished, so that's remains as another mystery around the Eluga Power – whether it'll have some personalization or not. However, the normal Panasonic Eluga does have a personalized interface (although it was still running Gingerbread), so a custom UI shouldn't be out of the question. Unfortunately, neither pricing, nor availability are still announced for this device, so we'll have to wait some more before we know when we'll be able to play with a thin and ruggedized Android smartphone.