Panasonic ELUGA now official in all of its thin waterproof Android glory
9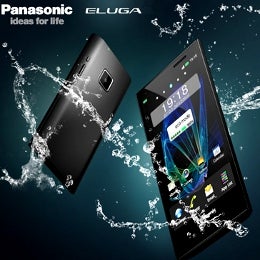 We heard that
Panasonic will be coming back to the phone game with an Android handset
way back in November last year, and yesterday learned the name of the first handset to appear in Europe this spring - the
Panasonic ELUGA
.
Now the handset seems to be already official under that same ELUGA moniker, derived from the phrase "
elegant user-oriented gateway
", and it is certainly bound to turn some heads with a thin aluminum frame and IP57-certified body, meaning impermeable to dust, as well as
immersible in 3 feet of water for up to 30 minutes
.
Just 0.3 inches (7.8mm) and 3.63oz (103g), it is one of the slimmest and lightest Android handsets out there of this screen size. Panasonic boasts that the ELUGA comprises of 66% screen and has one of the largest screen-to-body ratios on the market, thanks to the almost nonexistent screen side bezel, and the compact ergonomic shape
It houses enough good specs for us to wonder what will
the rumored "premium" Panasonic smartphone
be at the MWC then, if the ELUGA sports a 4.3" qHD OLED display, 1GHz dual-core TI OMAP 4420 processor, 8GB of memory, HSPA+ 4G radio plus NFC chip, and an 8MP camera. Android
2.3
Gingerbread at launch is a slight disappointment, but the company promises the Ice Cream Sandwich update for the summer.
Invalid image meta
Well, we guess yesterday's high end is today's midrange. Moreover, the camera is not accompanied by a flash of any sort, so that might be a differentiator compared to the other Android smartphone we expect to be unveiled by Panasonic, which is rumored to boast LUMIX camera technology.
The Panasonic ELUGA is expected to appear on shelves in April in
black and silver
, only in European countries for now, but we'll try and take it for a spin at the MWC to demonstrate Panasonic's grand return to the phone scene for you.