Oyster brings all-you-can read books to iPad for $10 a month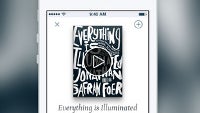 Oyster, the Netflix of ebooks, a service that allows you to read all you want from its catalog for $9.95 a month, has now arrived on the iPad. Initially, Oyster was only available on an iPhone, but you can imagine that an iPad is a much more suitable device with a more spacious display for reading. To sweeten the deal, Oyster is now offering a one-month free trial of its service. The feature will allow most customer that are unaware of ebook subscription services to give it a shot.
The Oyster catalog is fairly large and consists of 100 000 books all of which are still a subject of copyright law. The reading progress and the books will all by synced across the iPhone and iPad.
The app itself is designed to fit the tablet form factor and supports simple gestures like tapping to flip pages that is convenient. The cornerstone for such a service however remains the actual amount and quality of books. Getting publishers on board is a very tough task that Oyster has yet to prove it can achieve.
Rival Scribd for instance quietly launched its own ebook subscription and it's got HarperCollins on board with all its books. Scribd also has a larger loyal following, and a slightly cheaper $8.99 a month service. Scribd's advantage is its cross-platform support including support for Android.