Owners of LG Windows Phone 7 handsets will receive ten free apps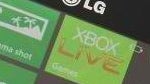 Good news for those early adopters of LG's line of Windows Phone 7 smartphones now that they've teamed up with Microsoft to offer a selection of free applications. This seemingly nice gesture in hauling in potential users will essentially dish up ten free applications that span a deal of categories that fall under gaming, utilities, and social networking.
Basically, they will be given away every 60 days and users will have the ability to use them for a time frame of 60 days – all of which can be found under the LG Application Store that will come preloaded with their WP7 handsets. Some of the titles being offered with this promotion are Subway AR, Voice SNS, and Type n Walk.
Brandon Watson, director for Windows Phone at Microsoft said, "This collaboration with LG creates a win-win situation for consumers and developers and will further showcase the variety of quality games and applications available on Windows Phone 7."
So if you're in the market of picking up a Windows Phone 7 powered handset from LG, this is probably another great reason to side with the Korean manufacturer over the competition.
via
Mobileburn