Oppo R1 teased for late December launch, superior night photos in tow
7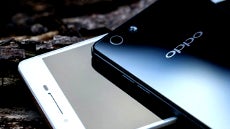 The Chinese phone makers are on the rise this year, and Oppo is one of the best representatives of this new breed that is churning out some of the best value for money in the Android world these days. Oppo is the second most profitable Chinese handset manufacturer as it doesn't split itself in tens of smartphones covering every market niche to see what sticks, but rather makes only a few carefully crafted handsets with just enough twists to make them stand out for the price tag they command.
Hopefully the Oppo R1 will be one of those, as the maker just announced its existence, and teased it will be coming later this month with some fancy camera able to take incredible night shots, or so we grasped from Google's translation, which does not always make sense when Chinese is concerned. No specs were listed for the Oppo R1, just the pictures below showing a very Xperia Z-line body design, and a circular opening for the camera lens on the back, and we hope the touted low-light abilities mean some kind of an OIS mechanism inside.
In fact, we
recently saw a similar phone teased under the name Oppo R829
, which was said to come with an 8 MP rear camera, and a 5 MP front-facing shooter, but was listed with 4.5" HD display, whereas a 5" R1 is speculated. Apparently we are also getting white and black versions of the R1, too, but it shouldn't be long before we know it all for certain.
Recommended Stories