Only in Japan: a bathing lady iPhone case pushes the limits of weirdness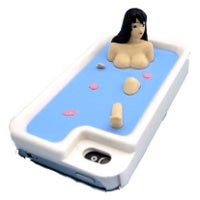 Take a good look at this iPhone case. Actually, no, you only need a glimpse and you'd be able to tell - it's made in Asia. Some things are just so weird you can't help but wonder what was the maker thinking, and this here iPhone case with a bathing lady manages to be a crossover of impracticality and weirdness. So much, that we just had to let you take a look - it easily beats the bacon and noodle cases for iGadgets by clothing your iPhone in a case so thick you probably wouldn't be able to stick the phone in your pocket.
The case actually has an idea behind it - you can use it as a stand to put the iPhone in portrait and landscape mode, but is that enough of an excuse for its existence? It costs around $30, fits the iPhone 4 and 4S, and if no one is paying attention to your phone, we bet that ordering one of these will fix this.
source:
Gaugau.jp
via
Pocket-lint