Only at the Olympics: Samsung Galaxy S III used as a hotel room key, TV remote control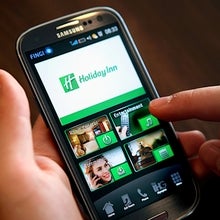 Hotel room keys are so 1972. It is the 21-st century, so can't we use something more high-tech? Sure! If you are staying at the new Holiday Inn located at London's Stratford City, you can totally unlock your room using the flashy
Samsung Galaxy S III
. Well, as long as you are a VIP staying at one of the hotel's 40 rooms that get along with the smartphone, that is.
What makes this possible is a downloadable Holiday Inn Android application. Besides using the Samsung Galaxy S III instead of a traditional key, guests will be able to use the handset as a remote control for the room's TV, lights, and air conditioning. Naturally, the smartphone also works as an in-room phone extension and can be used for ordering room service or hotel facility booking. And if that is not enough, the smartphone will keep users updated on the latest news from the 2012 London Olympics.
That last bit should come as no surprise as Samsung is an official sponsor for the 2012 Olympics, which will take place in London between July 27 and August 12. The company is also offering a
special edition Samsung Galaxy Note
, designed specifically to commemorate the event.