OnePlus One vs Xperia Z2 vs Galaxy S5 vs One (M8) size comparison: one affordable biggie
39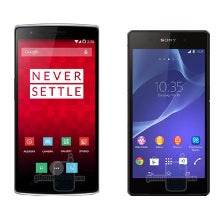 The unveiling of the
OnePlus One
just dropped a bombshell on the big names in the mobile industry with a
$300 phone that carries the specs of a $600 handset
from a major manufacturer, and then some. It's still a huge 5.5" handset, though, which won't be to the taste of everybody, so we are pitting its chassis against some of the major competitors below to help you grasp the true dimensions of the OnePlus One.
First off, that leaked picture of allegedly
the 5.5" OnePlus One hiding beneath a 5" Xperia Z1
didn't pan out. The phone is larger than both the Z1 and the
Z2
in height and width, and, at 0.35" (8.9mm), it's a bit thicker than most flagships, too. What the folks from OnePlus have done very well, however, is the heft part - with 5.71 oz (162 g), their magnesium-clad handset weighs as much as 5" phones with premium glass or metal chassis, like the Z2, or the
HTC One (M8)
.
If you are into big-screen handsets, you won't be disappointed by the OnePlus One's dimensions, as they are in sync with its 5.5" display frame. When it comes to one-handed operation, however, the sizable 2.99" (75.9mm) width makes it impossible to reach the upper left or right quadrant of the screen with your thumb only, unless you are Shaq, of course. When we take a look at the 5.2"
G2
below it becomes even clearer that the OnePlus One is a pretty large handset, crossing into the
phablet realm
. Thus, if size is of concern to you in terms of portability and pocket comfort, you are only likely to be swayed by the amazing value-for-money proposition that comes with the OnePlus One. What do you think, can you stomach the phone's dimensions at this breakthrough $349 price point for the 64 GB version?