The new OnePlus 7 Pro is HUGE: size comparison
6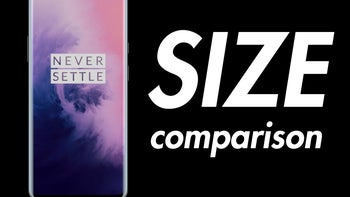 Phone displays aren't getting any smaller, but bezels are.
With a gigantic, 6.67-inch display in tow, you might be led to believe that, see, the OnePlus 7 Pro is a gigantic phone that will hardly fit in your pocket, let alone be comfortable to use with a single hand, but that's not the case here. In reality, the OnePlus 7 Pro isn't much larger than the other large devices already on the market like the Samsung Galaxy S10+, Note 9, Huawei P30 Pro, and iPhone XS Max. Thanks to the pop-up selfie camera and the super-slim bezels that OnePlus has employed, the OnePlus 7 Pro is already enjoying that futuristic all-screen look that is the potential endgame of all phone makers... until foldable phones become a bit more prevalent, of course.
The OnePlus 7 Pro happens to be the largest OnePlus device to date, but how does it stack up against the competition? Here's how it compares against its rivals.