OnePlus 2014 status report released: trendier than the Kardashians (infographic)
9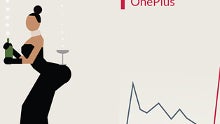 Back in November, we told you that 500,000
OnePlus One
units had been sold, and that the company was aiming to sell one million handsets for 2014. Sure enough, the company came very close to hitting that mark for the year. Not bad for a company that sells just one device, but far from the company's initial ambitions, too. We do have to wonder how many more units OnePlus might have sold if it didn't adhere to the oft-criticized invitation system. OnePlus also had some early stumbles with its marketing.
As for the waiting period, OnePlus explained, it needed to keep supply and demand in sync so that it wouldn't spend extra money building handsets that it didn't need to manufacture. The invitation system was the best way OnePlus found to keep track of orders and to keep things in balance. OnePlus founder Carl Pei says that the company will improve its operations and customer service in 2015. In addition a sequel to the OnePlus One, the
OnePlus Two
, will be available in the second or third quarter of this year. The design team has been working on nailing down the perfect screen size for the "Two" and Pei has said that the new model will surprise people.
We surely hope so, but while you wait for the rumored OnePlus Two with Snapdragon 810, Quad HD display, 4 GB of RAM, and 3300 mAh battery, you can preview the OnePlus One labor pains that the company just put in a handy infographic below.