These new Olloclip lens sets for iPhone 7 and iPhone 7 Plus let you take macro and wide-angle photos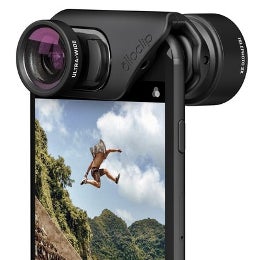 The
iPhone 7
and
iPhone 7 Plus
are undoubtedly very good at taking photos, but Olloclip wants to make them even better. Thus, the company announced three lens sets specifically made for Apple's latest handsets: Olloclip Core, Olloclip Active, and Olloclip Macro Pro.
The new sets include an Olloclip Connect interchangeable lens system that easily attaches and aligns to your
iPhone 7
or iPhne
7 Plus
rear and front-facing cameras, even if you have a
screen protector
(up to 0.5 mm thick) installed.
The Olloclip Core lens set for iPhone 7 and iPhone 7 Plus is priced at $99.99 and includes three lenses: Fisheye (near 180-degree field of view), Super-wide (120-degree field of view), and Macro 15x.
Costing $119.99, the Olloclip Active lens set includes an Ultra-wide, 155-degree lens that offers an action camera-like field of view, and a Telephoto lens featuring 2x optical zoom (this can be used both with the iPhone 7, and the
iPhone 7 Plus
- which already has 2x optical zoom).
Finally, the Olloclip Macro Pro lens set is the cheapest among the new accessories, costing $79.99, and including the following lenses: Macro 7x, Macro 14x, and Macro 21x.
All three new Olloclip lens sets can be pre-ordered starting today, and should be released in mid November. They don't work with third-party protective cases, but Olloclip has its own compatible case that can be bought for $29.99. You'll be able to find the new lens sets not just at Olloclip's website, but also at Apple, Best Buy, and other well known retailers.
We liked the quality of the older Olloclip iPhone lenses that we reviewed (see
here
and
here
), so we hope the new ones won't disappoint. Let us know if you're planning to buy any of Olloclip's lens sets for your iPhone 7, will you?
New Olloclip lens sets for iPhone 7 and iPhone 7 Plus
sources:
Olloclip
,
Press release