Office Depot will sell the BlackBerry PlayBook for $499.99?
6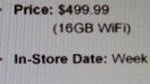 Coming out of left field today, we find yet some additional interesting pieces of information regarding the upcoming BlackBerry PlayBook. Sure there might be some Verizon customers being given the opportunity of
test driving the highly prized tablet
, but now there appears to be some light on its pricing.
Today, a screenshot of Office Depot's internal inventory system was leaked and provides some valuable details regarding the BlackBerry PlayBook. Looking into it, we find that the Wi-Fi only tablet is currently being given a
$499.99 pricing
. Additionally, the 16GB model is
penned with a week 17 in-store date
which places it sometime between the
end of March and early April
. Previously, it was rumored that the base model of the PlayBook would be priced around $500 – which makes this leak even more telling since it's within the boundaries.
Even though its pricing has yet to be officially confirmed by RIM, does the sound of it being $500 good enough for you to warrant a purchase when it's finally released?
source:
CrackBerry
via
BerryReview