A 'hand-made in Cupertino' OG iPhone prototype is up on eBay, and it works!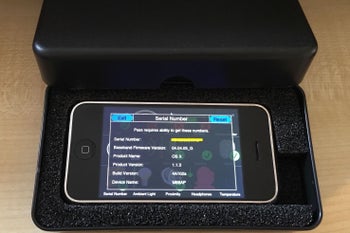 Apple was rumored to have
several prototypes of the original iPhone
in the works, including ones with different designs and features than what ultimately became the first AT&T-subsidized phone with the fruit logo on its back.
The owner of one of these alleged prototypes decided that now is the time to build another garage next to the house, and put what amounts to an engineering sample of the OG iPhone up for sale with everyone's favorite online auctioneer. Yes, a piece of Apple (and smartphones) history is up for bidding on eBay and has 8 days to go to its lucky next owner.
So far, the phone has amassed a $12,300 bid, and not even the reserve price has been met, so who knows how much will the owner ultimately fetch for it. There are plenty of folks with means that would love to own the piece of electronics that started it all, so we'll keep an eye on where the price ends up in a week or so.
Here's the mouth-watering description of this fine eBay specimen:
Noticeable differences on this iPhone Prototype compared to mass produced 1st generation iPhones:

Rare Apple engineer sticker which says Ver 1.1.1
Running multiple testing software, including OS X and Earthbound (not the normal OS 1)
Used by Apple for testing to make the original iPhone
Circa 2006. Before the original iPhone release date (mid 2007)
Different weight. Much heavier at 144.5 grams (normal iphone 2g is 135 gram)
No FCC etchings at the back
Bell icon for the mute button
Complete different internals, including different battery, different wifi etc
Excellent investment
Early prototype
Hand made in Cupertino, California. (not mass produced in China like normal iPhones)
Secretly code named Project Purple (at this stage of development, the "iPhone" name was unknown)
EXTREMLY RARE. Only a few are known to exist
Highly sought after