Nvidia Project Shield's first prototype was little more than a gamepad attached to a smartphone with a piece of wood
2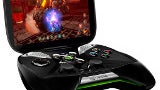 Nvidia has decided to create some buzz around its upcoming portable Android game console, the Project Shield. The company published a blog post providing us with some funny and interesting facts about the early versions of the device.
For example, did you know that the first prototype of the Project Shield was little more than a gamepad attached to a smartphone with a piece of wood? That first prototype was ready in early 2012. Since then, the engineers at Nvidia have produced numerous other early versions of the the console we saw at CES 2013 earlier this year. And with each version, the project got closer and closer to its final state. However, it may surprise you that the few Project Shield units that were on hand at CES were produced just before the trade-show, during the holiday break. Nvidia reveals that a team of engineers had taken "a small piece of floor space at a Silicon Valley contract manufacturer to assemble the units that would be shown off at CES." Great way to spend the holidays, huh? Don't kid yourselves, though, even this won't be an excuse for not buying your wife a present.
Judging by the blog post by Nvidia, the company intends to produce "tens of thousands" more Project Shield units later this year. Will you be getting one of those?
Hit the source link below for the full blog post - it's very cool!
source:
Nvidia
via
Engadget