Now you can get your Atari gaming fix on your favorite Android device
3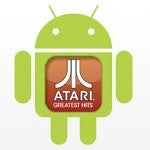 Back in April, Atari released its Greatest Hits collection to iOS devices. Retro gamers were able to get their nostalgia fix on 100 classics for $14.99. Atari has now released an Android counterpart.
Right now, in the Android Market, you can download the Atari Greatest Hits app and receive access to
Missile Command for free
. There are 100 games available for the app that Atari has broken down into 25 separate game packs.
Each pack costs $.99
and contains 4 games. If you know you're the kind of person that just
has
to have them all, Atari is also offing the
entire collection at a discounted rate of $9.99
.
The Atari Greatest Hits app is compatible with both
Android phones and tablets
. The app allows for single player and local multiplayer. Many of the games have greyed out options and "coming soon" graphics for online multiplayer and leaderboards, which strongly suggests that network support will be added very soon.
There is no word yet on an Android compatible version of the
Atari Arcade Duo
or Android 4.0 game controller support, but we wouldn't be surprised to see either of those options in the future considering Atari's continued push into mobile platforms.
Atari Greatest Hits
[Android Market link]
source:
Atari
via
Android and Me