Note 9 can hit 6000 mAh battery prowess with Mophie's Juice Pack case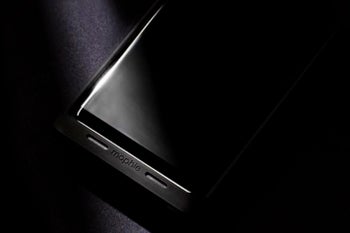 The
Galaxy Note 9
is shaping up to have a
better battery life
than its predecessor, based solely on the 20% increase in mAh capacity, as well as the more frugal, second-gen 10nm chipset. Samsung still advertises it as an "all-day battery" phone, though, which is not what you'd expect from a 4000 mAh pack, but, hopefully, it means a day with heavy usage.
That's the
curse
of modern smartphones with QHD+ display resolutions, so the news from Mophie that it will be releasing its acclaimed Juice Pack battery case for the Note 9, is very welcome. Coming this fall, the Note 9 Juice Pack sports a 2525mAh battery inside, and doubles as a tough protection case. The case is very slim, as far as wrappers with embedded batteries go, but, unfortunately, that also means the Mophie sacrificed some battery capacity in the process.
Galaxy Note 9
, and has it protected from bumps and drops at the same time.
The price? Well, $99.95, just like with all Juice Packs, which are now more elegant and house more capacity inside the case than previous editions. A slightly smaller battery pack but thinner, more elegant battery case sounds like the smarter tradeoff, so kudos to Mophie for taking this plunge.
mophie introduces new juice pack battery case for Samsung Galaxy Note9

Orange County, Calif., (August 9, 2018) – mophie®, a ZAGG Inc (NASDAQ:ZAGG) company and the #1 mobile battery case brand in the U.S.1, today announced the juice pack® battery case made for Samsung Galaxy Note9 to recharge on the go. This juice pack expands mophie's line of wireless charging battery cases for Samsung's flagship devices.

The mophie juice pack battery case for Galaxy Note9 has an integrated, rechargeable 2,525mAh battery in an ultra-slim, low-profile design. Charge Vault Technology® enables the juice pack battery to hold its charge for an extended period of time, so it is always ready to charge the Galaxy Note9 at the push of a button.

The mophie juice pack for Galaxy Note9 provides high-impact protection that features internal rubberized support pads that can withstand the toughest drops and falls. The Qi-compatible juice pack works with mophie's charge stream pad+ along with virtually any wireless charging pad commonly found in airports, cafes, cars, and furniture. The juice pack is also optimized to deliver fast charging speeds when connected via USB-C. Its lightweight, low-profile design includes raised corners for added protection against scratches and screen damage.

"Mobile power is a necessity in today's world, and this juice pack with wireless charging capabilities provides our consumers with the option of charging on the go and without the hassle of cables," said Robert Johnson, general manager for mophie. "Our work is important because that call, text, post, photo, score, video, alarm, or reminder is important, and there's no reason your device should shut down before you do."

The mophie juice pack battery case for Galaxy Note9 allows access to all ports, including the USB Type-C port, for wired charging or headphones.

Other signature features of the juice pack include:
Priority+® charging allows pass-through fast-charging speeds and sync capabilities when connected via USB-C; the phone charges first, and then the juice pack battery charges
Standby/status button – Turn the juice pack battery on/off or press to display battery levels and charge status

The mophie juice pack for Samsung Galaxy Note9 will be available this fall at mophie.com and other leading retailers nationwide for $99.95. To receive information about product availability, sign up at mophie.com.

For the latest updates about all new mophie products, upcoming events and promotions, follow mophie on Facebook, Twitter, and Instagram, or register at mophie.com/innovation.

1 The NPD Group, Inc., U.S. Retail Tracking Service, Cell Phone Device Protection, Charging Case, Based on Dollars & Units, Jan. 2015- Mar. 2018.

About mophie:
mophie, the #1 selling battery case manufacturer and the #1 external battery brand in the US, is a California-based, award-winning designer and manufacturer that empowers the mobile world to Stay Powerful® Widely acclaimed for innovative mobile solutions, mophie is the proud developer of the original juice pack. mophie products are recognized for style and engineered for performance, providing a seamless integration of hardware, software and design. mophie has operations in California, Michigan, Hong Kong, and China. mophie products are available in more than 130 countries, and can be found at Apple, Best Buy®, Verizon®, and T-Mobile® stores, as well as Sprint® and other leading retailers. Visit mophie.com and follow us on Facebook, Twitter, and Instagram (@mophie).

About ZAGG Inc:
ZAGG Inc (NASDAQ:ZAGG) is a global leader in accessories and technologies that empower mobile lifestyles. The Company has an award-winning product portfolio that includes screen protection, power management solutions, mobile keyboards, and personal audio sold under the InvisibleShield®, mophie®, ZAGG®, BRAVEN®, and IFROGZ® brands. ZAGG Inc has operations in the United States, Ireland, and China. For more information, please visit the company's websites at www.zagg.com, www.mophie.com, and www.braven.com.

mophie, the mophie logo, juice pack, Charge Vault Technology, Stay Powerful, and Priority+ are trademarks of mophie inc. Samsung and Note are trademarks of Samsung Electronics America, Inc., Ltd. Qi is a trademark of the Wireless Power Consortium. All other marks are the property of their respective owners.

Contacts:
Media:
The Brand Amp
Nicole Fait
949-438-1104
nicolef@thebrandamp.com

Company:
ZAGG Inc
Jeff DuBois
801-506-7336
jeff.dubois@ZAGG.com

###