"Not gold plated, it's made of real gold": Snapdragon 855 flagship gets $7,000 shiny limited edition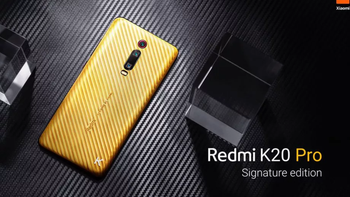 Xiaomi is a brand known for making some of the most popular value-for-money phones out there, and Redmi in particular is its budget sub-brand that creates even cheaper devices, but the latest Redmi flagship, the K20 Pro, a $400 Snapdragon 855 phone, is now getting special treatment as a limited edition made out of gold is coming to the market.
Only 20 pieces of the luxurious, limited edition devices will go on sale in India where they will be priced at ₹4,80,000 (or nearly $7,000 US dollars) each.
In case you are not familiar with the Redmi K20 Pro, it's a phone with typical Android flagship specs: it runs on the Snapdragon 855 chip. has 6GB of RAM, features an in-display fingerprint sensor, and has got a triple camera system on its back. On top of that, it also has a massive 4,000mAh battery. Consider its regular price in Asia of around $400 and it's an absolute steal, but of course if you want a phone that is entirely made of gold, you need to pay more for that.
In the context of Redmi launching this gold version as an exclusive for India, it's worth mentioning that people in India have an affection for gold and this is a cultural thing. Gold in India is perceived as a status symbol, you can often see women wearing a lot of golden jewelry and it is also thought of as a good investment. We are just not all that certain about the value of a gold phone, but since there is just 20 of them, we have no doubts that rich fans of the brand over there will quickly buy out this limited edition device.
Introducing the signature edition #RedmiK20Pro, made of gold. Not gold plated, it's made of real gold and embellished with diamonds.

We will be making 20 limited units of this phone worth ₹4,80,000 each.#BelieveTheHype#FlagshipKillerpic.twitter.com/STJsNcub0W

— Redmi India (@RedmiIndia) July 17, 2019