Norweigan man gets stuck in a public toilet trying to save his friend's phone
49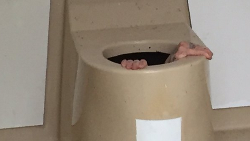 How far would you go to retrieve a smartphone that fell into a toilet? 20-year old Cato Berntsen Larsen found out when he lowered himself into a public toilet to retrieve a handset dropped by a friend. As disgusting as that sounds, it was actually worse. Larsen ended up getting stuck inside the toilet, which is emptied only once a year. The crappy incident took place in Norway's Drammen municipality.
After the phone was dropped, it was determined that the heavily tattooed Larsen was the only one of the two men slim enough to fit inside the bowl. As you might imagine, the toilet was teeming with germs and bacteria.
"It was disgusting as hell. The worst thing I have ever experienced. Animals were down there too. I will never enter a toilet again. Now my body hurts, and I will go home and get some rest"-Cato Berntsen Larsen
Firemen had to demolish the toilet, which had been standing for roughly 20 years. At the ER, Larsen had his wounds cleaned and received antibiotics. He will live on although the phone won't. Larsen was unable to save it.
source:
DrammensTidende
(
translated
) via
BBC
Recommended Stories