Nokia tops the 9th Greenpeace Guide to Greener Electronics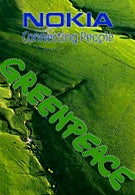 Since August 2006, Greenpeace has been publishing the Greenpeace Guide to Greener Electronics. The Guide aims to "clean up the electronics sector and get manufacturers to take responsibility for the full life cycle of their products, including the electronic waste that their products generate and the energy used by their products and operations", and now rates the top 14 manufacturers of personal computers and mobile phones, plus Philips, Sharp, Nintendo and Microsoft.
In this latest edition of the Guide
, Nokia (score of 7), leads by a fair margin over second-placed Samsung (score of 5.7). The scores cluster together more closely in the middle, LG Electronics (score of 4.9) placed sixth while Apple (score of 4.1) placed thirteenth. Nintendo (score of 0.8) is the lowest scoring participant . The leaders of the previous edition of the Guide, Sony and Sony Ericsson, have dropped to fourth and fifth position.
It is somewhat surprising that RIM is not ranked, especially since
more phones shipped
with the BlackBerry OS than with Windows Mobile in the second quarter of 2008.
via:
Smartplanet