Nokia to offer a dual-SIM variant of the Lumia 625
20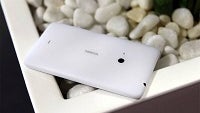 Nokia's
Lumia 625
offers a large screen, competent hardware with solid Nokia build quality, and an affordable price point at €220 ($290) before applicable taxes. Some of the specifications are middle-of-the-road, but paired with the Windows Phone operating system, it is sure to feel like a winner.
The differentiating factor of the Lumia 625 compared to all other Nokia Windows Phone handsets is that it sports the largest display in its line up with a 4.7-inch screen. It looks like Nokia is gearing up to offer another differentiating feature to its newest Lumia.
That new feature would be
support for dual-SIM cards.
Nokia Lebanon tweeted a picture of a white Lumia 625 with the comment,
"It's a smartphone, it's Dual Sim and it's golden… Can you guess its name?"
We are not going to pretend that we are as smart as Stephen Hawking, but it sure looks like a Lumia 625 to us. Perhaps it will earn its own nomenclature, like the Lumia 625D or Lumia 62x. Your guess is as good as ours.
sources:
Nokia Lebanon
(Twitter) via
My Nokia Blog