Nokia slashes the price of AT&T's Lumia 1020: $49.99 on contract
13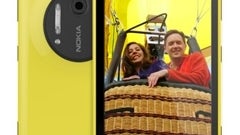 Nokia and AT&T are now offering the
Lumia 1020
Windows Phone 8 handset for only $49.99 on contract. Although the 1020 isn't the newest smartphone around (being available since July 2013), that's a pretty sweet deal. After all, we're talking about a device that's hailed by many as one of the best camera phones ever.
Nokia USA tweeted an image showing the Lumia 1020 compared to other cameras (non-phones) and their prices. We can spot cameras from Samsung, Sony, Panasonic and Nikon, all obviously presented as costing more than the Windows Phone 8 device. However, the image is misleading, because, as we already mentioned, the Lumia 1020 costs $49.99 only with a 2-year contract agreement. Otherwise, its regular price at AT&T is $609.99.
The Lumia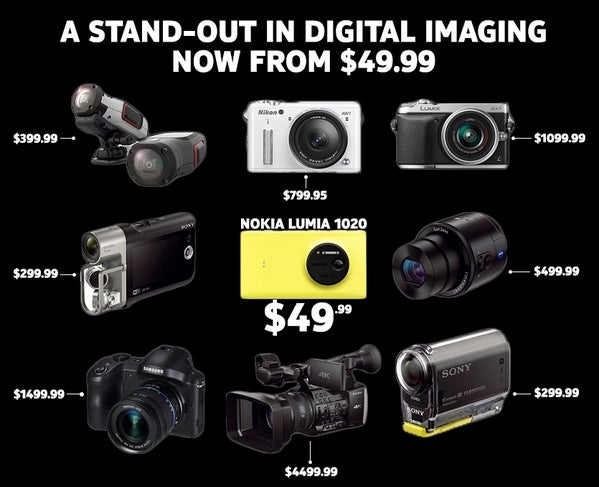 1020 is the world's second phone that offers a 41MP rear camera - after the Symbian-based Nokia 808. The camera features Nokia's PureView technology, a 1/1.5-inch sensor, optical image stabilization, and Xenon flash. The handset recently
received the latest Black software update
, which improved its camera capabilities even more. Other than that, you'll get a 4.5-inch AMOLED display with 768 x 1280 pixels, LTE, 2GB of RAM, dual-core 1.5GHz Snapdragon processor, 32GB of internal memory, and a 2,000 mAh battery.
AT&T is selling the Lumia 1020 in three color versions (black, white, yellow), and all are included in the new deal.
Is $49.99 a price that can make you buy the Lumia 1020 (assuming that you're looking for a WP handset)? Or would you rather choose the larger, newer Lumia 1520, which costs as low as $99.99 at AT&T?
sources:
AT&T
,
Nokia USA