Nokia details its new Refocus feature: shoot now, focus later, coming also to the Lumia 920
30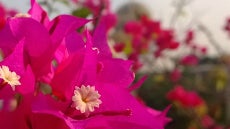 All Nokia Lumia models with PureView camera units will be getting the new
Refocus feature
, which takes photos with different focus depth in quick succession after you press the shutter key, and lets you adjust the focus later.
Yep, that goes for you,
Lumia 920
owners who still have a year or so on their contract, but also for the
Lumia 925
,
928
,
1020
, and, of course, the
Lumia 1520
phablet, where the Refocus will make a debut.
Nokia posted several pics taken with the Refocus feature, that demonstrate an awesome
Lytro-style effect
, allowing you to blur and sharpen the object front and center, the background, or put the whole picture in focus. It's pretty neat, and the funny thing is that your friends can also do this when you post the pictures online to the Facebook service, for example.
A cool effect is also present, which leaves the close object in focus colored, while rendering the rest of the scene black&white, for even more highlight, and we'd imagine Nokia can gradually add more effects like this one to the mix with Refocus. You can play around with the four images below, clicking to shift the focus back and forth, marveling at the Lytro-like effect that your camera-centric Lumia will be able to achieve.
source: Nokia