Steve Jobs reportedly talked with Lytro about employing its post-shot focusing camera tech in the iPhone
4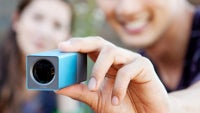 Lytro's cameras capture the entire light field in a picture, making shifting subject focus possible even after the shot was taken. Steve Jobs was supposedly so enthused about this technology, that hosted Lytro's CEO in Palo Alto.
Ren Ng, a Stanford graduate, is said to have impressed Steve Jobs in his final months at Apple enough to earn additional talks about incorporating the technology in the future iPhone versions.
Steve Jobs asked him to sent an email back, outlining three possible things his company can offer to Apple, minding that the company already employs an
8MP Sony sensor with 5-lens optics system and almost instant shot-to-shot times
in the iPhone 4S.
Lytro has showcased numerous times how its cameras capture the entire light field in a frame, making focusing on different objects possible even after you have taken the shot, and instant picture taking a reality.
The downsides are that the Lytro units are still fairly big for the dimensions of a modern smartphone, and the file sizes get pretty large, but Jobs had been known to make each of Apple's suppliers do the impossible to satisfy his demands. We'll see if and how this develops under Tim Cook.
source:
9to5Mac