Nokia apps section rolling out to Marketplace on Nokia Windows Phones
1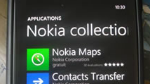 It seemed inevitable given that many other carriers/manufacturers have pulled together their own app store sections on various platforms, the most notorious example is likely the Verizon section added to the Android Market, and it looks like Nokia is the latest to get a featured section, this time in the Windows Phone Marketplace.
The section was seen first in France by Professor Thibault, and has been reported under either the name "Nokia Collection" or simply "Apps from Nokia". It will serve as a centralized store for all the apps that Nokia has created specifically for its own devices, and right now it reportedly only holds five apps: Nokia Maps, Contacts Transfer, WRC Live, TuneIn Radio, and App Highlights.
Of course, Nokia isn't the first manufacturer to do this, and not even the first in the Windows Phone Marketplace as LG, Samsung and HTC all have their own sections in the Marketplace.