Nokia announces the music-centered 5250 that goes easy on the budget
0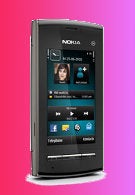 The Finish cell phone maker outed today a few pictures of an upcoming handset first on its Facebook page with the enigmatic "
You guys are the first to see our new Nokia 5250! Take a look at the pics and we will tell you more later today… "

Fast forward two hours, and Nokia listed the launch details on its Conversations blog - the 5250 is a device for music fans, with a 2.8" 16:9 touchscreen. Resistive, we guess, judging from the 115 EUR (around $145) price before taxes and carrier subsidies. The rest of the specs are in line with the price -
it is running the touchscreen S60 v5 version of Symbian, has 360x640 pixels of nHD display resolution, a 2-megapixel camera, FM radio, and a microSD slot for extra storage.


You will need the memory expansion, as the Nokia 5250 comes with just 51MB of internal memory. Another feature sacrificed on the altar of affordability is 3G, so you will be browsing with
EDGE
speeds at the maximum. Nothing is mentioned about Wi-Fi or GPS presence.
With its
4.09 x 1.93 x 0.55 inches
(104 x 49 x 14 mm)
dimensions, it won't win any slim design contests either.

To us it looks like another rehash of the 5800 XpressMusic, but Nokia does throw in Guitar Hero 5 Mobile and Ovi Music Unlimited (in certain markets) with the 5250, so it might tickle your fancy in that regard.
Nokia doesn't specify the battery capacity, but it rates the phone for 7 hours of talk time and 18 days on standby, calling the achievement "excellent"; of course, it doesn't have 3G to take its toll on the battery.

The Nokia 5250 will be coming in various colors judging from the official pictures below, and should be available in Q4 of this year in places yet unknown.

Nokia 5250 Specifications

source: NokiaConversations