Nokia X2 is still planning for a February 16th release with T-Mobile?
4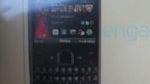 Yet again another confirmation to the reality of the
Nokia X2 hitting the US,
the latest leaked internal documentation pinpoints its
release as being February 16th
. From the looks of it, the information was recently published yesterday and points to the all telling tale of the handset's arrival.
It's rather surprising to ever find a US carrier taking hold of a Nokia branded device since their name isn't as well established as it used to be. Still, this
Series 40 handset
will undoubtedly play to the strengths of messengers all around since it's equipped with a modest looking
portrait style physical keyboard
. And for those who don't want to complicate their lives with some sort of BlackBerry, this might prove to be a healthy solution since the platform doesn't come off as being overly complicated.
Now that we have a clear cut date on when this one will be released, the only thing left to find out now is a concrete on-contract pricing. Or maybe it'll be offered as a prepaid device as well?.
source:
Engadget