Nokia X2-02 unveiled: affordable music-centric dual-SIM phone
3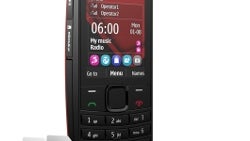 The
Nokia X2-02
has just been unveiled by the Finns and it's a very affordable dual-SIM handset centered around music. The phone looks very familiar to the previously announced Nokia X2-05, save for the dual-SIM functionality which is absent in the X2-05, and if we had to compare it to something already released on the market, it definitely looks almost exactly like the
Nokia X1-01
. It's a hair thinner than the X1-01, at 0.59" (15mm) and relatively lightweight tipping the scales at 3.28 ounces (93 grams). The phone comes with Easy Swap Dual SIM which allows hot swapping SIM cards, so you don't need to restart your phone. The X2-02 also remembers up to 5 cards.
Update:
Nokia has confirmed that this is a
dual-SIM dual-standby
(not dual-SIM dual-active) device, which means there's only one radio module. Having only one transceiver means that if you're on a call or use the internet on the first SIM card, the second SIM is inactive for all that time and in the case of Internet usage this could be for hours. On the positive side, though, one transceiver also means better battery life.
With its 2.2-inch 240x320-pixel display, support for 32GB microSD cards and dedicated MP3 player, music controls and built-in loudspeaker, the Nokia X2-02 would
appeal most to music lovers
looking for a cheap handset. One of the best features for such an affordable handset, is its ability to push music wirelessly to speakers such as your car audio system. It can also record and share tracks from the radio with its FM antenna and
"Play via Radio"
recording feature. Having an internal antenna means that you don't need to plug in your headphones and can directly listen to FM radio via the loudspeaker.
Software-wise, this is a
Series 40
device, so it offers some basic
Internet connectivity
as well via the Nokia Browser. Additionally, you have Facebook and Twitter apps pinned directly to the homescreen for quick access to your social updates. On the back, the Nokia X2-02 also sports a basic (most probably, fixed-focus) 2-megapixel camera.
The biggest plus of having a low-end device like the Nokia X2-02 is that you can forget about charging the device for a couple of days. The X2-02
battery life
is quoted at 18.5 days on standby, while talk time stands at the respectable 9.7 hours.
The Nokia X2-02 release date wasn't announced, but hopefully it's coming sooner rather than later and the
price
is set at $80 (60 euro). How do you like this new entrant to the low-end dual-SIM market?