Nokia X gets its first update, lets you change those Android tile colors
31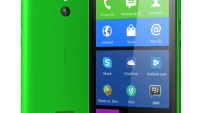 It looks like the Android-running NokiaX has gotten its first update. The 16MB package is mostly dedicatedto dealing with a particular shortcoming of Nokia's UI design. Didyou notice that each row of app tiles comes in the same color, whileall native apps' icons are white? While this gives it a uniform look,it makes the Nokia X's homescreen pretty disorientating, even afteryou get used to it.
Users complained, Nokia listened, andthere you go - the new update lets you change those tiles' colors asyou wish. Unfortunately, this applies only to third-party apps.Still, after installing, long-press on a tile, and tap on the smallcolor wheel to the bottom right. You're set. The available shades aredark blue, pink, purple, orange, green, and sky blue.
If you haven't received the update, usethe Settings -> About Phone -> System updates menu to checkmanually. We don't know whether the other X-series phones are gettingthe update, but we assume Nokia will take care of them as well.
via WPXbox