Nokia Lumia 520 is here with flashy colors and supersensitive screen
21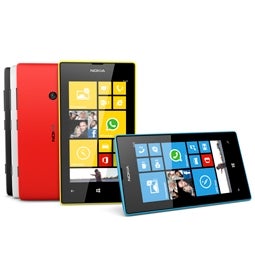 Nokia got on stage today to announce the Lumia 520, another one in its strategy to go downmarket with the Lumia brand, and bring Windows Phone 8 to the masses.
The
Nokia Lumia 520
is the company's cheapest Windows Phone 8 handset, delivering experiences normally only found in high-end smartphones, such as the same digital camera lenses found on the flagship
Nokia Lumia 920
, Nokia Music for free music out of the box and even offline, and the HERE location suite. A four-inch super sensitive touchscreen makes for a more responsive and immersive content experience than can usually be found at this price.
As for the other specs, we get a 1 GHz dual-core S4 processor, 512 MB of RAM, 8 GB of internal memory and a microSD slot. The 5 MP camera is with f/
2.4
aperture, capable of HD 720p video, and has some neat tricks up its sleeve like Cinemagraph and Panorama. The battery is generous 1430 mAh, good for 9 hours of talk time in 3G mode, and 6 hours of Wi-Fi browsing.
The Nokia Lumia 520 comes in five colors, with an estimated starting price of EUR 139 (~$184), before taxes and subsidies. Roll-out is planned to begin in Q1 2013 in Hong Kong and Vietnam, before expanding broadly in Q2 to markets in Europe, Asia - including China and India - Latin America and Africa. The Nokia Lumia 520 is also planned to
roll out in the United States with T-Mobile as the Lumia 521
.