Nokia Drive for Symbian and Windows Phone introducing free live traffic updates
5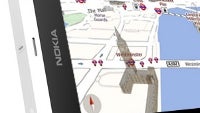 Nokia Drive, the free voice-guided offline navigation app for Symbian and Windows Phone is getting better by the day, and now introducing free live traffic updates.
Starting off with the the vast Indian metropolis cities of Delhi and Mumbai, the new Nokia Drive service is poised to expand to other major cities later in the year. It will initially cover a thousand miles of roads, and can be obtained by simply updating the Nokia Drive app.
The base technology for the service is pretty interesting, too - in order to keep things free, Nokia uses the location of other Nokia Maps users in the area as "traffic probes", serving congested roads in red, yellow for slow moving traffic and green for easy flowing vehicles.
Data that comes in from those "probes" will be then refreshed every two minutes for the most recent condition to always be an eye glimpse away from your Nokia handset.