Nokia Bandit phablet to be called Nokia Lumia 1520
61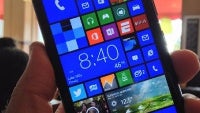 After getting first solid rumors on Nokia's upcoming 10.1-inch tablet, the
Nokia Sirius
, today information surfaces about Nokia's 6-inch phablet, the
Nokia Bandit
. The Nokia Bandit will actually be called the Nokia Lumia 1520, according to @evleaks.
And that's about all the new information. We cannot derive much from that number - Nokia's current flagship is the Nokia Lumia 1020 and all major releases of the company this year end with '20' - the Lumia 520 and Lumia 720. Nokia is also releasing upgraded devices derived from an existing product under the '25' suffix. Such are the Nokia Lumia 925 which is an evolution of the Lumia 920, and such seems to be the Nokia Lumia 625, a supersized version of the Lumia 620.
Clearly, with the Nokia Lumia 1520, the Bandit, we are talking about a device that will kick off a brand new category, and it will be Nokia's first phablet, a device larger than a phone and smaller than a tablet. The Lumia 1520 is expected to feature a 6-inch 1080p display and run on Windows Phone 8.
Nokia Bandit = Lumia 1520

— @evleaks (@evleaks) August 27, 2013
source:
@evleaks