Nexus 7 returns to Bluetooth SIG, may have Android 4.3
6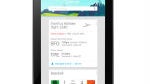 Don't get too excited, because we want to be clear right off the bat: this is not a new model of the Nexus 7. That in itself is a bit odd. For some reason, the same model of Nexus 7 that we've had for a while has returned to the Bluetooth SIG, but not everything in the listing is the same as before.
The Bluetooth SIG listing has the same exact the model number, ME370T, as the original Nexus 7, so this is not a new model. But, there is one interesting difference in the listing: the Android build number for the device is JWR11. Android 4.2.2 is build number JDQ39, so at the very least, this Nexus 7 is carrying a new version of the Android software.
Last week, there was a leak of a Nexus 4 running
Android 4.3
, and the build number on that was JWR45B, so it certainly seems like this Nexus 7 is loaded up with the newest version of Jelly Bean. It makes sense though, since Android 4.3 is expected to bring support for Bluetooth 4.0 LE.