Enhanced camera interface for Android 4.3 spotted in action
46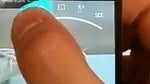 Just because we did not see a grand announcement of Android 4.3 or 5.0 Key Lime Pie does not mean that things in Mountain View have gone to a standstill.
At the Thailand Mobile Expo, a user on the lookout spotted a Nexus 4 running Android 4.3 and decided to take the camera interface for a spin. We do not think that 4.3 would bring much of a radical change to the overall user experience (
an update to Gmail for Android is rumored to be coming soon
), but the camera app is definitely getting a new feel to it.
Granted, the changes are purely aesthetic in nature, but linear in presentation. Selecting the settings option brings a first ripple of options, or holding elsewhere in the screen can produce the same effect. Then you can navigate through the relative options by sliding your finger up and down through the virtual ripples of selections.
Other than that, we hope to see more about what Android 4.3 will be bringing to the table soon. To date,
new features are primarily developer-centric
. As to when we will see Android 4.3, rumors have been jumping around a bit, but we might see it
as early as June
or
possibly July
. It is anyone's guess since we saw
all sorts of "confirmations"
about what Google I/O would bring, but did not, so we are perfectly okay with taking it all with a grain of salt for now.
While we wait and see, check out the pictures and video below.
source:
XDA Developers
via
Redmond Pie