Next week's T-Mobile Tuesday allows you to put down some roots for free
2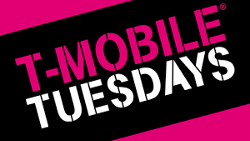 Well boys and girls, it's that time again. Next Tuesday T-Mobile will be once again giving out freebies to its subscribers. First up, a $5 credit on carpool ride sharing service Lyft Line. Share a ride with others going the same way you are, and save a fiver in the process. When you get home, you can rent a movie for free, or take up to $5 off the purchase of a flick from VUDU. With Paper Culture, you can receive half off on eco-friendly greeting cards. Get 50% off your order, thanks to T-Mobile, with free shipping up to $8.99.
Hungry? T-Mobile is giving subscribers a $25 credit to be used at any of the 62,000 eateries that work with Restaurant.com. And with Earth Day taking place a week from this Saturday (on April 22nd), you can plant a tree with Treecycler and donate one to more than 40 reforestations around the world.
So we've covered the freebies. What about the weekly contest? This time there will be not one, not two, but three grand prize winners. Each one will receive a Bourbon Plus 5-speed bike from Pure Cycle. And if you're like us and can't stand to be away from your handset for a second, you'll also receive a Cobi Plus system that connects your smartphone to the bike.
Fifty First Prize winners receive an adult-sized solar powered back pack. And the back pack actually contains a digital power management system allowing users to charge up their device, even while walking on a trail in the middle of nowhere. Two Hundred Second Prize winners will each receive a $50 digital gift card/gift certificate to be used at one of the following locations: REI, Dick's Sporting Goods, Cabela's or Bass Pro Shops.
For the upcoming week, T-Mobile's contest has 253 prizes with a total value of $21,091. Good luck!
source: T-Mobile