New year sale on the BlackBerry PlayBook has been cut short by a week - set to expire on January 28
4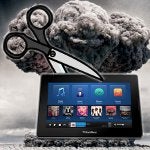 Do you happen to remember that
awesome sale RIM blessed its BlackBerry PlayBook
earlier in the month to ring in the new year, the one where that priced all versions of the PlayBook (16GB, 32GB, & 64GB) at the same price point of
$299.99
? Initially, the sale was expected to go on until
February 4th
, but after taking a look at the same sale at RIM's Shop BlackBerry web site, we see a totally new date for its expiration.
January 28th
. Indeed that's an unusual move, but it also begs the question why the ship dates associated with all tablets have been on a consistent 7 to 14 business days. Needless to say, we're sure that existing tablet owners are dearly
waiting for that beloved PlayBook 2.0 software to launch
, especially when all fingers point to next month, but it's still rather strange why RIM has cut the sale by over a week.
Could it all be due to the
recent shakeup over at RIM's camp
? Or maybe they're
prepping some sort of new tablet
? We can guess until we're all guessed out, but it's obviously clear that you'll need to think fast on your feet if you really want to pick up that 64GB PlayBook – seeing that there are only 4 days left for this sale!
source:
RIM
via
Berry Review