RIM co-CEOs step down, one co-COO steps up, no change in strategy
13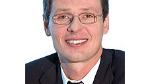 It was pretty much inevitable and we knew it would happen soon, and now it has: RIM's co-CEOs Jim Balsillie and Mike Lazaridis have stepped down from their positions, and one of RIM's co-COOs, Thorsten Heins, has stepped up to take over in the CEO role. Of course, this change doesn't necessarily mean we should expect a change in RIM's strategy.
In addition to the shakeup in the CEO position, board member Barbara Stymiest, who had been
seen as a lock
to take over the CEO position, has taken over the chair of the board. Jim Balsillie and Mike Lazaridis will both retain significant shares in the company, and possibly worse (depending on how you view their careers with RIM) both will remain on the board, with Lazaridis actually taking over as vice-chairman.
Thorsten Heins worked at Siemens for 20 years before joining RIM in 2007. RIM said that the company's strategy will remain unchanged and that it will still be pushing BlackBerry 10 this year. But, Heins has thrown a wrinkle into that process with a hint that the company may be looking into licensing the BlackBerry 10 operating system if it is successful. Of course, finding that success still looks like a struggle for RIM, given that it has had to
cut the number of BB10 devices
slated for release.
source:
The Verge