New shipping options finally in the Google Play Store
4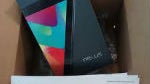 So, a couple weeks back, we heard that there were
new shipping options
coming to the Google Play Store for those of you looking to buy your Android hardware directly from Google. Those extra shipping options have finally gone live, and are available for the Android devices and accessories in the store, but not the Chromebooks.
The 2-day option is still around, but on certain devices there are new options for Ground (3-5 business days) and Saver (5-10 business days). It
looks like the new options are rolling out
, because Droid Life is saying it is seeing the options on the Nexus 7 and Nexus 7 covers, but we're not seeing it on any devices on the site.
Droid Life is reporting prices of $4.99, $7.99, and $11.99 for Saver, Ground, and 2-day, respectively, for a Nexus 7 cover, and the Nexus 7 has no Saver option, just Ground ($9.99) and 2-day ($13.99). We expect the options will continue to roll out to more devices and more users in the future.