New iPad to be thinner and lighter, mass production starting in July-August?
36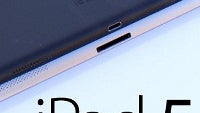 The fifth-generation iPad will enter mass production in the summer months of July to August and it will carry a design similar to that of the iPad mini with a thinner and lighter body, featuring a narrower bezel, according to DigiTimes.
If true, those would be good news for the ergonomics of the 9.7-inch
iPad
. We have heard the rumors about Apple cutting shipping numbers of the traditional 9.7" iPad in favor of the more compact 8"
iPad mini
. If the larger iPad becomes more compact, though, Apple could have a more compelling case for users to buy it.
The screen on the fifth-generation iPad is said to be manufactured by LG Display and Sharp. We have not heard any rumors about Apple further bumping up the resolution, and we don't see why would it - the 9.7-inch iPad still has one of the sharpest displays with its 2048 x 1536- pixel resolution.
source:
DigiTimes