Deal: Save up to $300 on a Samsung Galaxy Note 8 or S8 (Verizon, AT&T, T-Mobile), or get a $350 gift card (Sprint)
4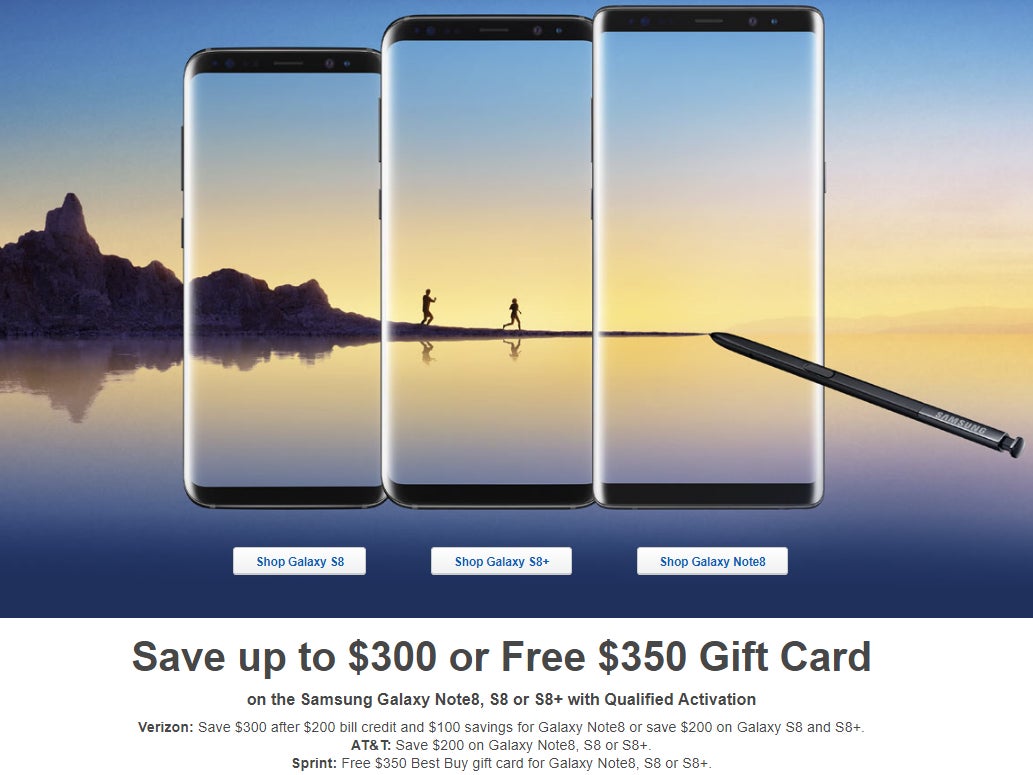 Since their release, Samsung's
Galaxy Note 8
,
Galaxy S8
, and
Galaxy S8+
have been included in so many
deals and promotions
that we kind of lost track of them. Still, we have to report about the newest deals involving Samsung's three phones, as they're pretty tempting (particularly if you're interested in a Verizon Note 8), and don't require trade-ins.
As of this weekend, Best Buy lets you purchase a Verizon Galaxy Note 8 at $300 off. Verizon was already
taking $200 off the Note 8
(reflected in reduced monthly payments), but Best Buy now offers an instant $100 discount on top of that - so you'll end up paying $636 (instead of $936) for the phone.
Best Buy also lets you save $200 on Verizon's Samsung Galaxy S8 and S8+, as well as on AT&T's Galaxy Note 8, S8, and S8+ (with monthly device payments).
For Sprint customers, Best Buy doesn't offer savings in cash, instead giving away $350 gift cards with the Galaxy Note 8, S8, or S8+ (24-month installment agreement required).
If you're a T-Mobile customer, don't worry, there's a deal for you, too, just not at Best Buy. Samsung itself is taking $200 off the price of the T-Mobile Galaxy Note 8, offering it for $750 instead of $950. Samsung is also selling Verizon's Note 8 at $200 off. In both cases (T-Mobile and Verizon), Samsung lets you add a pair of
AKG headphones for free
, but only if you make a purchase no later than February 16.
If you're not eagerly waiting for the
Samsung Galaxy S9
and
Galaxy S9+
(which will be announced on February 25, and likely released in March), these latest deals on Samsung's older flagship smartphones are worth a look. You can find them at Best Buy and Samsung via the source links below.