New Moto G vs old Moto G comparison: spot the specs and size differences
6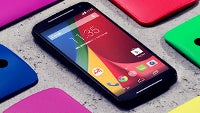 The new
Moto G 2014
edition upgrades from its predecessor exactly where it counts most, namely a larger display diagonal and higher camera resolution. Thus, potential users will be immediately notified that this is a bigger and, perhaps, better phone, the second they pick it up in the store.
Apart from the enlarged screen diagonal, Motorola placed another very distinguished feature in the new Moto G that is a rarity on smartphones still, especially in this price point - a dual stereo speaker set at the front. Moreover, the camera resolution grows from 5 MP to 8 MP, but it sill only records HD video, which is a bummer in this day and age where even midrangers do 1080p footage. We are willing to overlook this omission for that sweet, sweet microSD card slot, which is dearly missed on its predecessor.
Other than those, the specs sheet stays largely the same, down to the quad-core Snapdragon 400 processor, the 1 GB of RAM, and 2070 mAh battery. Just as last year, the internal storage versions are 8 GB/16 GB, starting at $179.99 and $199.99, respectively, but the memory slot expansions makes those much more palatable. All in all, just like its predecessor, the new Moto G edition is probably one of the best value-for-money propositions you can currently get in the Android world, and, yes, that includes Chinese phones, too.
Scratch-resistant glass, Ambient light sensor, Proximity sensor
Scratch-resistant glass, Ambient light sensor, Proximity sensor
Scratch-resistant glass, Ambient light sensor, Proximity sensor
Qualcomm Snapdragon S4 Pro MSM8960
Qualcomm Snapdragon 400
Qualcomm Snapdragon 400
Dual-core, 1700 MHz, Krait
Adreno 320
Adreno 305
Adreno 305
Android (5.1 Lollipop, 4.4.4, 4.4.3, 4.4.2, 4.4, 4.3, 4.2.2)
Android (5.0 Lollipop, 4.4.4, 4.4.3, 4.4.2, 4.4, 4.3)
Android (5.0 Lollipop, 4.4.4)
13.00 hours
the

average

is 11 h (660 min)
10.0 days (240 hours)
the

average

is 29 days (688 h)
Single camera
Single camera
Single camera
Aperture size: F2.4; Focal length: 30 mm; Sensor size: 1/2.6"; Pixel size: 1.4 μm
Aperture size: F2.0
1920x1080 (Full HD) (60 fps)
1280x720 (HD) (30 fps)
1280x720 (HD) (30 fps)
2 MP
1.3 MP
2 MP
1280x720 (HD) (30 fps)
1280x720 (HD)
5.09 x 2.57 x 0.41 inches (129.3 x 65.3 x 10.4 mm)
5.11 x 2.59 x 0.46 inches (129.9 x 65.9 x 11.6 mm)
5.57 x 2.78 x 0.43 inches (141.5 x 70.7 x 11 mm)
4.59 oz (130.0 g)
the

average

is 6 oz (171 g)
5.04 oz (143.0 g)
the

average

is 6 oz (171 g)
5.26 oz (149.0 g)
the

average

is 6 oz (171 g)