A water-resistant BlackBerry phone is coming this October to lure iPhone and Galaxy users away
34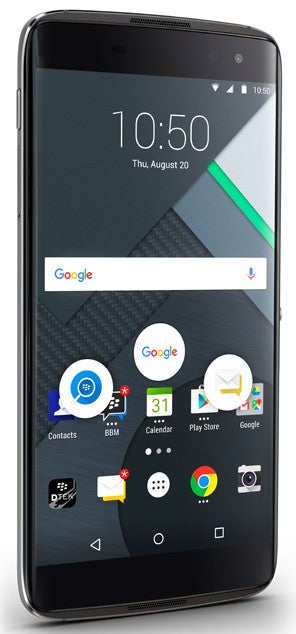 Not long after hearing that
two new BlackBerry smartphones
were in the making, we can now confirm that at least one of them is coming soon.
Engadget has it that an all-touch, keyboard-less BlackBerry handset will be released sometime in October. This will be a dust- and water-resistant device (IP67-certified), in a first for a BlackBerry phone. The news comes from François Mahieu, Global General Manager at TCL - the company that's now manufacturing BlackBerry-branded phones (in collaboration with BlackBerry itself, which takes care of the software side).
The idea behind this new BlackBerry handset, which will run Android, is to allow users to benefit from its features in all weather conditions.
While you won't be able to take the phone for a dive, thanks to its IP67 certification, you'll certainly have no problems using it under rain, or while at the pool. Apparently, the device will pack a generous battery, too - with "mixed use", this should last at least 26 hours. If that's true, we're likely talking about 2 days of normal usage on a single charge.
Interestingly, François Mahieu says that TCL expects some iPhone and Samsung Galaxy users to switch to the new BlackBerry once this becomes available, thanks to its "durability and longevity." Well, we'll be waiting to see if that happens.
For now, there are no other details about this upcoming BlackBerry smartphone, but it's pretty clear that it's going to be different from the
KeyOne
- released earlier this year with a hardware QWERTY keyboard in tow. To some degree, the new device could resemble the
BlackBerry DTEK 60
(the last all-touch BlackBerry phone, available since 2016 and pictured above).
We don't know if this water-resistant handset is the recently mentioned
BlackBerry BBD100-1
. If it is, it could be a mid-range-ish device with features including a Snapdragon 626 processor, a 1080p screen, and 4 GB of RAM.
TCL and BlackBerry might want to share new information about their water-resistant phone at IFA 2017 (September 1 - September 6). Stay tuned!
Recommended Stories