NMA strikes again with weird iPhone 5 video featuring sadistic pandas
7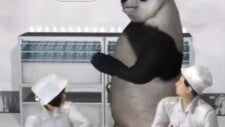 Taiwanese animators from Next Media Animation (NMA) strike again after a disturbingly weird video depicting the
life and career of Steve Jobs
, but this time it's all about the iPhone 5, 4S or whatever device gets announced today. We don't know if that's a Taiwanese thing, but the turn of events gets even crazier here.
It all starts with a scene of
Chinese workers
working on assemblying iPhones while being supervised and beaten by a giant sadistic panda overseer. An October 4th sign reminds them to be quicker, but also reminds us of the not so pretty ways state-of-the-art gadgets are produced.
Oh, there's not just one blow at Apple here. Next on the list, comes the sarcastic conclusion:
"the iPhone 5 will have voice recognition, which promises to be just as good as auto correct."
And finally - as probably most of you know - if you get the new iPhone "women will surely sleep with you." Or... just watch the video to find out.