Mystery variant of the Nokia 6 passes Wi-Fi certification. Possible global release?
4
As you probably know, HMD has recently announced the first Nokia-branded Android smartphone it's going to produce. It's named the Nokia 6 and will be launching in China today. The handset is a midranger with shiny looks and an aggressive price-tag and expectations for it to launch in Western markets aren't high.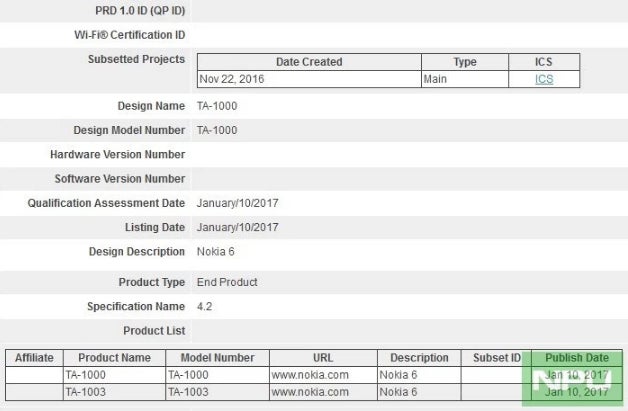 However, not all hope is lost. Website NokiaPowerUser managed to dig up a Wi-Fi certification for what appears to be a different variant of the Nokia 6. The model that is going to launch in China is known to be TA-1000. However, now, there's a new TA-1003 variant and it's unknown why it would exist.
Of course, the mere existence of a different variant of the phone barely means that it will be hitting European and US markets. However, it may still be a possibility.
The Nokia 6 is powered by a Qualcomm Snapdragon 430, paired with 4 GB of RAM. The processor is nothing to write home about, but it has a generous amount of RAM for its class of device, its 16 MP main camera and 8 MP selfie snapper sound promising, its design is pretty, and... well — it's a Nokia-branded phone! So, yes, there is some excitement surrounding this device. Whether it's justified — we'd love to find out if we ever get our hands on it.