Mystery Samsung device identified, it isn't the Note III
39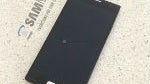 This past week, we saw a
mystery Samsung device
that had a decidedly different design than we are used to seeing from Samsung. The early rumors said that the device could be the upcoming Samsung Galaxy Note III, but now SamMobile is saying that is not the case and has identified what the device actually is.
According to SamMobile, the device in the picture is not a new design idea for the Note III, but a failed prototype design for the Samsung Galaxy S4. The info comes from a developer who actually still has the prototype design, and sent in a picture of the device as proof. The device pictured looks the same as the mystery device we saw, so it seems believable. As you can see below, the pic on the left is the original evleaks image, and the one on the right is the pic submitted by the developer to SamMobile.
There are still rumors that Samsung will be changing up its design strategy for the Note III by using a
metal body
, but we'll just have to wait and see about that.