Mysterious dual-SIM Huawei mid-ranger with fingerprint scanner caught in the wild
3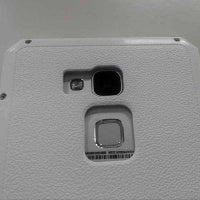 Earlier today, we showed you
Huawei's invitations for its IFA event
on September 4, which hinted us that the company will unveil a smartphone with a fingerprint scanner on board. Well, we don't know if the company's
rumored upcoming flagship
, the Huawei Ascend Mate 7 (or
Huawei Ascend (Mate 3) D3
, or whatever Huawei decides to call it), will come with such functionality on board, but a mysterious Huawei mid-ranger with a fingerprint scanner just got caught in the wild.
Although the device is camera shy and its exterior design remains hidden under an all-around protective case, it's been pictured from all sides. The rear one is the most interesting, however, as it looks like it's sporting a fingerprint scanner right under its main camera.
Bearing the Z100-CL00 model name, this Huawei device is equipped with a 720p display of unknown size. The SoC's exact type and number of cores remain veiled in mystery, but its running frequency is listed as being 1.6GHz. The amount of RAM is 1GB, while the on-board memory is 16GB, 9.26GB of which are most probably available to the user right out of the box. Oh, and according to the images below, this device has dual-SIM capabilities.
The device might be a toned-down version of Huawei's next flagship, but we guess that we would probably find out
pretty soon
.
source:
Weibo
via
G4Games